Electricians in Eugene and Springfield, Oregon
Why Choose Us


WE ARE PASSIONATE
With clients throughout the Willamette Valley, we have established a reputation as one of the top electrical contractors in the region. All of our projects are performed with the utmost professionalism using quality parts and materials. Our mission is to provide our clients with superior support and accessibility.


HONEST AND RELIABLE
Unlike other contractors who have come and gone, Builders Electric is a permanent member of our community. With hundreds of quality projects under our belt, we are one of the most trusted electrical contractors in Oregon.


WE ARE ALWAYS IMPROVING
As technology grows and changes within our industry, we use the best tools to ensure our clients' complete satisfaction. Whatever the demands of your next project may be, we have the expertise and knowledge to make it happen.
Who We Are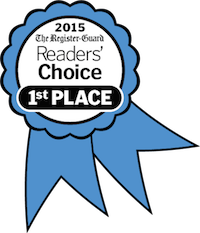 Locally owned and family operated, Builder's Electric has been building relationships and offering exceptional electrical services in the area for over half a century. No job is too big or small for our experienced team of electricians, architects and engineers. Serving Eugene, Lane County, and the entire Willamette Valley, we strive to maintain the highest standards while exceeding our client's expectations at all levels.
I called Builder's Electric this morning after our entire home's electricity went out due to an electric meter problem. Fred recognized that I was in a total jam and even though they had all their workers out on other jobs, pulled someone and had him at my house within an hour. They had the parts we needed and troubleshot some unique problems in our mixed-up/re-worked 1973 home. We're so grateful to them!
Marejka
The technician arrived 20 min. early; I didn't mind at all! He was very courteous and professional and he did a high quality job. I haven't received the bill yet, but I would recommend them on the quality of work performed.
Jen
Thatch was very professional and well versed in his duties. He explained everything that he was doing and that gave me peace of mind. I will definitely call Builders Electric before I start any home improvements.
Leroy
I have used Builder's Electric for my business's electrical contracting needs for a good number of years. No matter the size of job the experience is always consistently professional. I recommend them to family, friends and colleagues with absolute confidence.
Craig B.
Ryan Robbins did an excellent job of electrifying my storage shed, installing surveillance cameras, and setting up motion lights at my home. I am pleased with Ryan's performance and wonderful work.
Helen
Just a quick note to let you know what a great employee you have in Josh. He is always so polite and works hard at his job. He went above and beyond his duty when my security alarm went off. I don't know what I would have done if he had not been here to shut it off. I thought you should know just how valuable Josh is!
Joyce
Our mission is to be a resource in our community while delivering professional expertise, exceptional customer service and quality construction.
Partnership and Certifications